En concert à la Secret Place, à Saint-Jean-de-Vedas (34), lundi 12 septembre.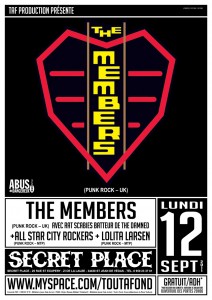 The Members (Punk Rock – UK) avec Rat Scabies, batteur de The Damned
+ All Star City Rockers (Punk Rock – MTP) + Lolita Larsen (Punk Rock – MTP)
Oragnisé par la TAF. En partenariat avec Abus Dangereux.