Les commandes pour le n° 128 d'Abus Dangereux sont disponibles ! Sortie aujourd'hui, 4 octobre !
5€ le numéro avec le cd sampler ou 20€ l'abonnement (23€ hors France) d'un an pour 5 numéros (et les 5 cd sampler!): c'est ici !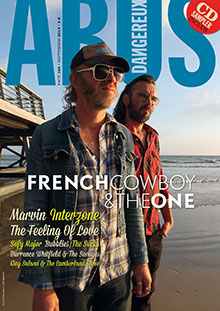 44 pages (+ CD sampler 11 titres) avec interviews, colonnes, news, chroniques (cd, vinyles, livres, fanzines, dvd) etc… : Barrence Whitfield and the Savages, Tim, Little Green Fairy, Sons Of Frida, Burning Lady, The Socks, French Cowboy, Wilfried, Sofy Major, The Feeling Of Love, Marvin, King Salami & The Cumberland Three,…
Sampler CD 11 titres : Tim, Sons Of Frida, French Cowboy, Feeling of Love, Bubblies, Gemma Ray, Sofy Major, Marvin, Wilfried, Miraculous Mind, King Salami & The Cumberland Three.