Les pré-commandes pour le n° 127 d'Abus Dangereux sont ouvertes! Sortie prévue pour fin juin.
5€ le numéro avec le cd sampler ou 20€ l'abonnement (23€ hors France) d'un an pour 5 numéros (et les 5 cd sampler!): c'est ici !
Et surtout, pour tout abonnement (ou réabonnement) avant le 15 septembre 2013, vous pourrez choisir un cadeau parmi les suivants : PLUTON maxi 12″ (Plastic Spoon Records), G.A.S. DRUMMERS « We Got The Light » LP (Kicking Records), PAT BENATAR « Une rockeuse engagée » Livre (Camion Blanc).
(Dans la limite des stocks disponibles)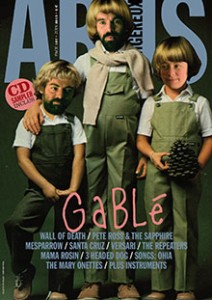 44 pages (+ CD sampler 14 titres) avec interviews, colonnes, news, chroniques (cd, vinyles, livres, fanzines, dvd) etc… : 3 Headed Dog, Flipsong, Versari, Gablé, The Mary Onettes, Tiger Bell, Santa Cruz, La Flingue, Phocea Rocks, Sasha Monett, Mama Rosin, Mesparrow, Catholic Spray, Jason Molina, Wall Of Death, The Ragnoutaz…
+
Sampler CD 14 titres : Gablé, Wall Of Death, Santa Cruz, Pete Ross & The Saphire, Catholic Spray, The Ragnoutaz, Tiger Bell, La Flingue, 3 Headed Dog, The Repeaters, Mama Rosin, Flipsong, Versari, Plus Instruments.